Rancho Obi-Wan, Inc. is a California Nonprofit Public Benefit Corporation whose specific purpose is to serve the public through the collection, conservation, exhibition and interpretation of Star Wars memorabilia and artifacts, using the collection to provide meaningful educational, aesthetic, intellectual and cultural experiences for a wide array of audiences and to carry out other charitable and educational activities associated with this goal. Funds raised are used for insurance, utilities, professional services, maintenance on the buildings, and protection and preservation of the collection. None is used to acquire collectibles. Monies raised also enable Rancho Obi-Wan to perform public outreach to schools and other charitable organizations and to support community programs.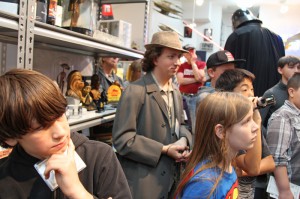 School Tours
During the year, Rancho Obi-Wan frequently offers free "School Days at the Museum," which includes about a two hour tour for a class with educational emphasis placed on a topic that the teacher requests (Star Wars and Science, The Entertainment Industry, The Impact of Popular Culture on our Lives, Creativity, etc.) Our president, Steve Sansweet, author of 16 Star Wars books, has delivered scores of lectures in the past 15 years, has been interviewed on numerous television shows and online podcasts and videos, and was a lecturer in the 1980s at the University of Southern California, where he taught courses in Basic Journalism and Business Journalism.
Charitable Donations
Rancho Obi-Wan donates memberships to other registered charities for their fundraising raffles, auctions, and events. These organizations support education and schools, play centers, cancer research, and other community services. In a typical year, Rancho Obi-Wan helps raise $5,000-$7,000 for charity.

For every $10.00 donated to Rancho Obi-Wan through the Donate button below we will donate a Star Wars book to Operation Paperback! Operation Paperback is a non-profit organization incorporated in the State of Pennsylvania that collects gently used books nationwide and sends them to American troops overseas, as well as veterans and military families in the U.S.

Support Rancho Obi-Wan in These Efforts
Money raised for, or donated to Rancho Obi-Wan is used for maintenance, utilities, insurance, security, professional services, public outreach and related activities; none is used for acquisitions. To help us in these efforts, simply donate any amount using the button above, become a Member, or donate a portion of your eBay sales. In-Kind donations of collectibles to display, give away or auction are also accepted. Email info@ranchoobiwan.org for more information.
Short on funds?
Here are other non-monetary ways you can support Rancho Obi-Wan: