---
Rancho Obi-Wan is a registered charity through eBay Giving Works and PayPal Giving Fund. There are two ways in which you can support Rancho Obi-Wan through eBay. First, is by choosing to donate a portion of your eBay listing proceeds to Rancho Obi-Wan; second, is to add a donation amount to any purchase through PayPal at checkout.
---
Donate a portion of your eBay listing proceeds
If you sell items on eBay you have the option of donating a percentage of your sale to a charity. eBay will credit a portion of your fees if you choose this option and your item sells. eBay's Giving Works Fee Policy page states:
"When you create a listing with eBay Giving Works and that item sells, eBay will credit the insertion and final value fees back to you, equal to the percentage of the final sale price that you chose to donate."
Here are the easy steps to donate to Rancho Obi-Wan when listing an eBay item:
1. When listing an eBay item, under the section titled "eBay Giving Works," if Rancho Obi-Wan is not already an option, click the link "Or, select another nonprofit you love"

2. In the "Search Nonprofit" window that appears, type "Rancho Obi-Wan" in the "Search by Keyword" field and click "Go."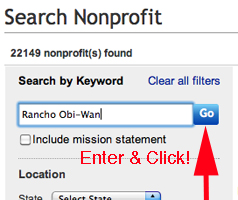 3. On the right side of the page you should see the Rancho Obi-Wan logo and description. Click the "Select" button on the right side.

4. Back on your listing page you should now be able to select Rancho Obi-Wan and choose a percentage of the sale you wish to donate.

---
Donate any amount during PayPal checkout
Every time you pay with PayPal after an eBay purchase you have the option of donating any amount, starting at $1.00, to your favorite charities. You must add these charities to your profile in My eBay otherwise you are given a charity chosen by eBay. Here's how to add Rancho Obi-Wan.
1. After logging in to eBay, click "My eBay" at the top right of the web page. Hover over the "Account" tab, pull down the menu and select "Donation Account".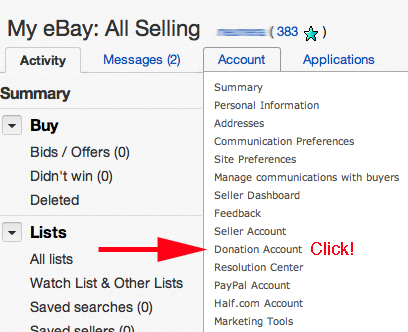 2. In the left toolbar labeled "Donation Account", click "My Favorite Nonprofits".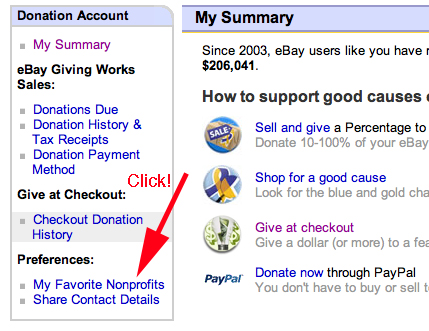 3. At the bottom of the page under the section "Or, Find Your Favorite" enter "Rancho Obi-Wan" in the "Nonprofit name or keyword" and click "Search."

4. You should see Rancho Obi-Wan in the results list. Click "Save as Favorite".

5. Now, when you checkout from eBay using PayPal you should see something similar to the screenshot below. Check "Add a donation to Rancho Obi-Wan" and select an amount from the dropdown list. Every dollar helps!