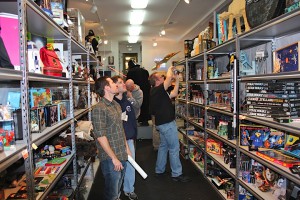 A visit to Rancho Obi-Wan is a distinctive interactive experience unlike that offered by any other museum, exhibit, archive, or memorabilia collection. The museum houses the world's largest private Star Wars collection and tours of the private collection are guided by owner Steve Sansweet or one of our highly skilled docents.
Rancho Obi-Wan appeals to avid Star Wars fans, who can spend hours asking questions on topics ranging from action figures to screen-used props. The museum also attracts non-core fans with exhibits that show the interaction of Star Wars and popular culture, the immense changes in technology and the workplace that happened in less than four decades, and the worldwide reach of Star Wars as seen through the lens of international culture.
Even those with just a casual interest in Star Wars will appreciate the outstanding quality of the visuals and immersive environments, along with all the stories. Everyone has a chance to challenge their skills in the Star Wars Arcade, where fans of all ages can play vintage video games and pinball machines, all set on free-play!
Any member of Rancho Obi-Wan can book a guided tour of the private collection. To book a tour:
1. Please read our tour policies.
2. Check the calendar below for date availability. Tours are limited this Fall 2016 and tours are typically booked to capacity 6-8 weeks in advance. We would advise booking well in advance or very swiftly if you see availability nearing capacity.
3. Become a Member. If you do not use the subscription option for your donation please allow 1-2 days for us to email your member-only store password. Our donation management and main web site are currently two non-communicating systems.
4. Once you have received your password, login to the member-only store to purchase tickets. Simply state your chosen date and guest names in the comment field of the purchase. Please click "Complete Order" when you return from PayPal or your order will not submit.
5. Email info@ranchoobiwan.org to confirm your tour.
Tours have a 2 ticket minimum to activate a tour. Tours with owner Steve Sansweet are $75.00 each and tours with one of our excellent docents are $60.00 each. Click the date to see who is leading each tour. Kids ages 6-12 are $20, one adult required for every two kids.
It has been our experience that Younglings under the age of six typically become bored, fidgety and disruptive because tours can be long and the subject matter rather in-depth. At this time we do not have Disneyesque interactive experiences to hold their attention. To encourage a quality tour for all our guests we do not recommend Younglings under the age of six attend the tour.
Tours usually start at 2pm and last between 2 and 4 hours. Only dates marked with "AVAILABLE" or "TOUR @ 2PM" are available to book. Click these dates for more information.